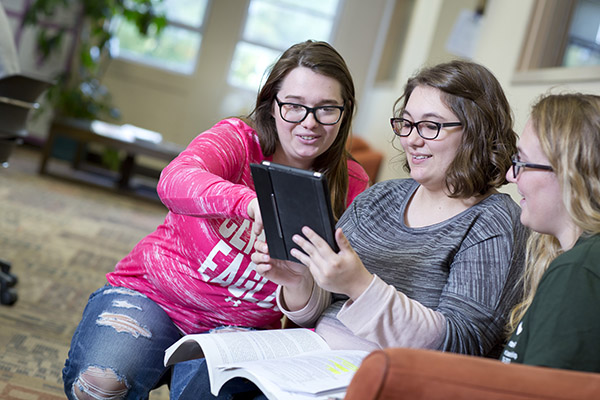 Center for Learning & Teaching
At CMU's Center for Learning and Teaching, students are provided resources to support academic goals and success. They are encouraged to ask questions and study together, and have access to a computer lab as well as tutors in writing, mathematics, study skills, and other academic areas. Special services are provided for those diagnosed with learning disabilities.
The Center for Learning and Teaching is located on the first floor of the Smiley Library in Cupples Hall.
Schedule a tutoring appointment
Tutors at CMU
Having trouble and need a little help understanding an assignment or problem you are working?  The Center for Learning and Teaching has the resources to help.  We offers free tutoring for CMU students.  Students can meet with a tutor to receive individualized help in various disciplines. 
To schedule an appointment with a tutor click on link and follow the steps below.
First time visits must register for an account
When logging in, you will need to choose a schedule (Center for Learning & Teaching) before clicking "log in."
You can then narrow your search by selecting a subject matter in "Limit to" dropdown menu.
Click on a timeframe and schedule the appointment.
What you can Find at the Center
From textbooks on tape to computers preloaded with academic software, to tutorial services and study skills mentoring, to services for students with diagnosed learning disabilities - and much more - the Center for Learning and Teaching exists to assist you in your journey through CMU. Not sure where to turn for help? Just stop by and ask us.
NetTutor
Need help with a statistics problem, a chemistry concept, or beginning a paper? NetTutor is an online tutoring service provided by CMU as a supplement to on-site tutoring. It is available with no extra fee to any current CMU student for assistance with their coursework. NetTutor has tutors in many subject areas and a variety of services to support students' learning: paper review, synchronous tutoring, and asynchronous tutoring.
Center for Learning & Teaching
660-248-6890
Cupples Hall
Teresa Argent
Academic Support Specialist
660-248-6287
Cupples Hall
Maryann Rustemeyer
Director of the Center for Learning & Teaching
660-248-6283
Cupples Hall